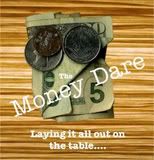 Livin' on a Prayer....
Well, actually I'm thinking of living on one paycheck.
No. I'm not quitting my job.
No. I'm not getting a different job.
I'm talking about banking my paycheck every month and living off the Big Guy's check. It is something I've been thinking about a lot lately. We, like most families, have a small amount of debt (credit card, school loan, car loan).
My thinking is that if we bank my check into savings, in about a year we could pay off all of our debt. We could then continue to bank my checks to boost our savings as well as have one hell of a down payment for a house.
We would still have access to the money if we needed it. We would just make it a point to live off of the Big Guy's income and go into our future home purchase--and our life together--debt free.
Anyone out there in a two income family who live off one check and save the other?
Is it doable?
What do I need to know?
Give me the scoop!